A Match Made in Data
A love story between In Gold We Trust and Call Of Duty
At Paúw, we're known for our beautiful clientele consisting of the majority of the Dutch music industry but that doesn't mean we're not familiar with e-commerce clients.
It was during a Christmas-diner in 2019 that Eric Franzel (founder of Dutch streetwear brand 'In Gold We Trust' ) and Noah Smits (founder "Paúw Agency") met each other. The two shared the same entrepreneurial values and after a couple coffee-dates, Pauw was contracted to run the social campaigns for the fast growing clothing brand. But this partnership wasn't just about pushing digital ads for generating sales.
Data Driven PR
From the start, our focus at Paúw was on the data-side of things as well. We firmly believed that In Gold We Trust could, and should, be growing even faster and the way that could be realised was by tapping into new audiences that the creative IGWT team didn't think of themselves. We started testing different out-of-the-box audiences and reached out to them in their natural habitats. Through multiple levels of our own technique 'data digging', we came to the conclusion that people buying In Gold We Trust were listening to some specific Future House DJ's and were fans of the first-person-shooter (videogame) called Call Of Duty. Not just any 'shooter'. Not Battlefield, not Counterstrike, not Apex Legends. It was specifically Call Of Duty. Our mission then was to think of cool PR to reach the 'COD' players with 'IGWT' content.
"Usually a request has a more common message that a company wants to do something with gaming but in this case it was one backed up by data they generated"
- Miranda Huybers, CEO The Smash Universe
Through mutual friend Koen Schobbers, Paúw came in contact with The Smash Universe which is a company operating as a streamer & creator management agency. Leading this company is CEO Miranda Huybers who has worked as Brand Manager Call of Duty for Activision Benelux. The developing company of, yes.. Call Of Duty. The gaming industry is a booming business and a lot of companies want to jump on the gaming-bandwagon and she liked the fact that Paúw backed up their interest, in partnering, with the generated data.
The idea that rose was to organise a Call Of Duty tournament on Twitch with well known Dance DJ's and streamers/creators, something that Miranda's company does often. The opportunity to combine these two great audiences (Future House/Dance and Call Of Duty) that proved to work for IGWT would be perfect!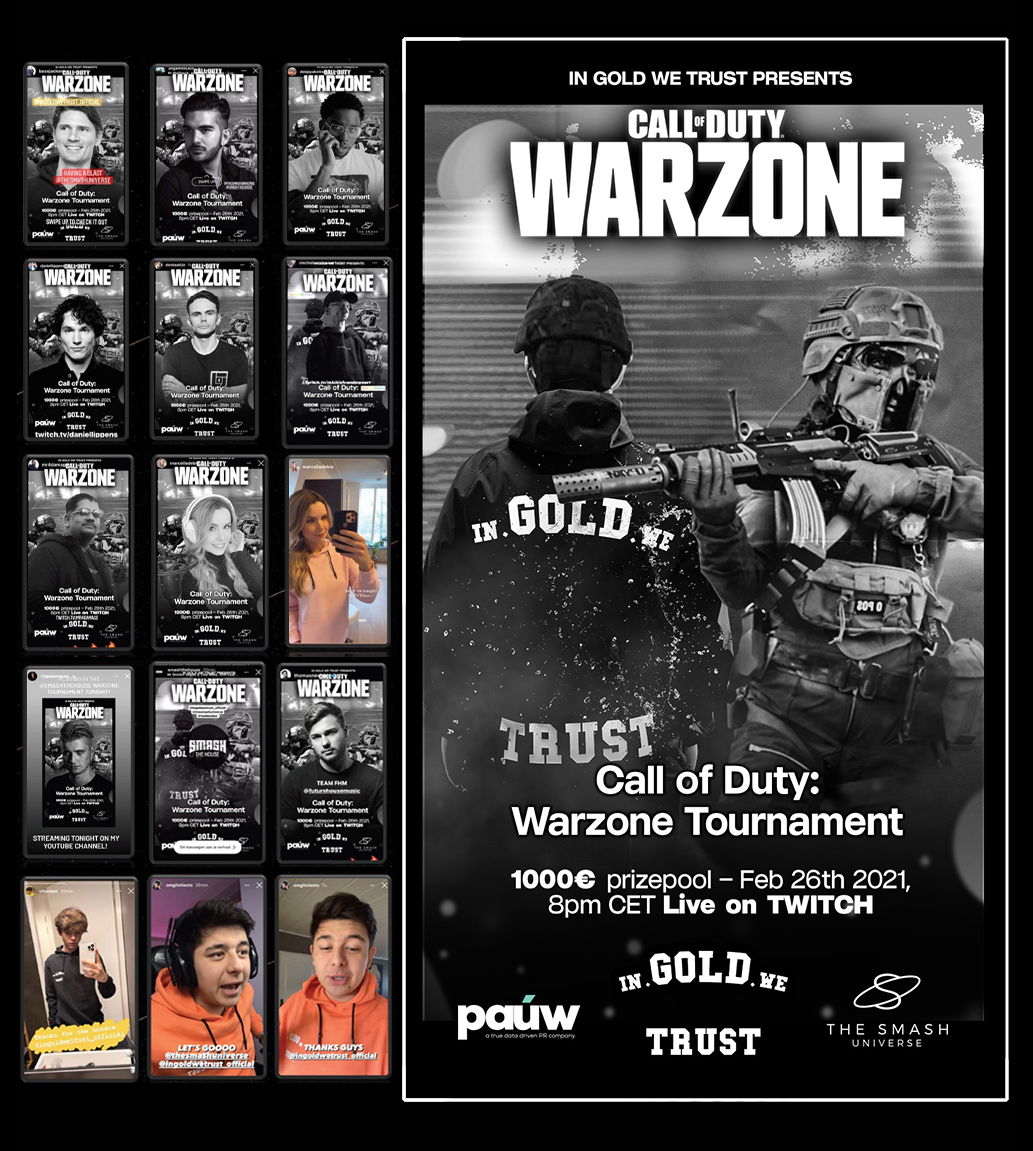 Activating 'reach' the right way
February 26th 2021 the tournament took place with 56 DJ's and professional creators competing against each other in the tournament that was hosted by Dutch TV presenter Simon Zijlemans. Contestants like Team Wall (Afrojack's Content Creators Team), Team Future House Music, Thomas Newson, Blasterjaxx, Bassjackers, Dyro, D-Wayne, Daniël Lippens, vThorben, OMGitsTiesto, Johnny 500, Jürgen Locadia, Deejay Abstract, Angemi, Nysira, Don Kaaklijn, MaximeMXM and many others were competing for the €1.000 first prize in their fresh new In Gold We Trust-gear.
This resulted in +62.000 views on the Twitch livestream and a social media reach of +3.600.000 with In Gold We Trust infused content. The tournament was a great success with even the brand managers of the Call Of Duty Team recognising its success and the great potential between the two brands.
"At first I was reluctant about the whole gaming-thing but we decided to trust the data and this is definitely something we'll be doing more often."
- Eric Franzel, Founder In Gold We Trust
Alongside the tournament we started our advertising campaigns for In Gold We Trust targeted on Call Of Duty players and people that showed interest in the tournament. Needless to say, we can't spill any beans about budgets and revenue but the next 7 days after the tournament, the social campaigns were performing 5x better with the majority of sales coming from ads being targeted at Call Of Duty fans which means that the tournament activated those people.
This is the beauty of data, it never lies. We at Paúw are firm believers of data driven PR and are proud to be partnering with The Smash Universe for our client In Gold We Trust. A big thanks to these two great companies!

Below you'll find the after-movie of the tournament.